Sustainable Tourism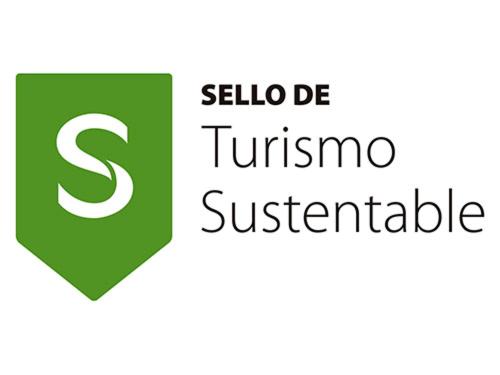 Torremayor Hotels already has the Sustainable Tourism Distinction, graphically recognized by the S Seal, it guarantees the visitor that the tourist service that has this distinctive, meets global criteria of tourist sustainability, in the socio-cultural, environmental and economic fields.
Hotels that have this distinction are highlighted by:
The efforts of the tourist accommodation services that have made progress in any area of sustainability.
Differentiate yourself from other hotels that do not have this recognition.
Guarantee tourists the company's commitment to the pillars of sustainability.
Torremayor Hotels are continually committed to the environment and recycling and sustainability processes. To do this, we have implemented a series of actions in our facilities and services to work in accordance with environmental and health care.
You can review our Social Responsibility actions
in this link
Supply Policy
The organization has a supply policy that:
- Prioritize the purchase of inputs from producers of local origin
- It favors the ecologically sustainable purchase of construction materials, equipment, consumer goods, food and beverages.
- Our purchasing policy prioritizes good stock control to avoid losses and losses that cause serious damage to excess waste.
We also have purchasing policies that favor environmental measures such as prioritization of products packaged in glass, recyclable pencils, use of digital communication channels to avoid printing documents, eco-labeled products, we do not buy products with disposable containers that affect the eco-system. . In cleaning supplies we look for bulk purchases that allow reuse of containers to avoid massive waste. Through our new sustainability policies, we are internally promoting the purchase from suppliers that are SMEs. This policy is published on the company's premises with a copy stored in the company's "Sustainability Verifiers" folder.
Sustainability Policy
We have proposed to contribute, through internal and external actions, to being a real contribution in the environmental, socio-cultural and economic fields.
You can review the complete document on Sustainability Policies at the following link:
Tourist awareness
CSEC: Commercial Sexual Exploitation of Girls, Boys and Adolescents in the context of Travel and Tourism.
According to the World Tourism Organization (UNWTO), the commercial sexual exploitation of children and adolescents (abbreviated as CSEC), in the context of tourism, is "organized trips from within the tourism sector, or from outside the sector, but using their structures and networks, with the fundamental objective that the tourist have sexual relations with residents at the destination ".
Responsible Tourist Code of Conduct
The National Tourism Service, SERNATUR, drafted the responsible tourist code, so that visitors to tourist destinations are aware of sustainable attitudes.
We invite you to read all the points included in each of the recommendations.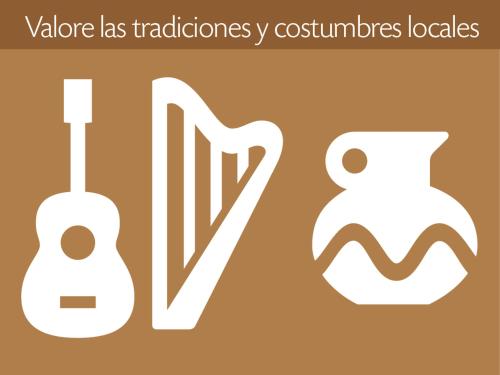 Rate local traditions and customs
Before traveling, ask about the local customs and traditions of the tourist destination you will visit (customs festivals, ephemeris, anniversaries, among others), so that you can better share, participate and integrate with the community.


Learn a few words in the native language. This will allow you to establish more meaningful contact with the local community.


Respect and protect everything that makes a destination a unique and different place: from its history, its architecture and its cultural, natural and own values such as: religion, music, art, cuisine, among others. For example, ask for consent to take pictures inside churches, national monuments or the local community.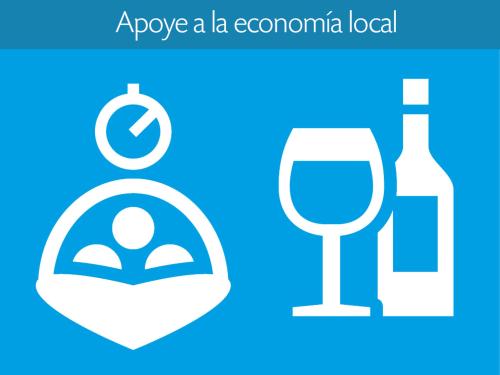 Support the local economy
Prefer local handicraft items and products made at the destination, this will allow you to contribute to the development of family, retail and small-scale economies.


Treat local vendors and artisans with respect and kindness and promote a fair and voluntary business relationship between producers and consumers.


Do not buy products that are obviously counterfeited, or that are prohibited by national or international regulations.


When it comes to acquiring tours, always try the established trade to avoid scams and deception. Prefer tourist services that are operated by inhabitants of the commune or destination.


Find out about products that are legally restricted from entering or leaving the country visited.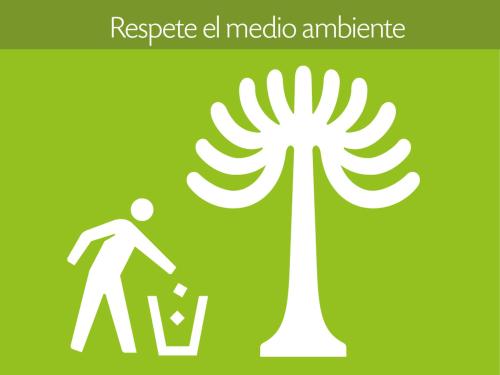 Respect the environment
Buy products that do not require the use of endangered plants or animals for their production.


Prefer group outings that save resources, money, fuel and a decrease in your carbon footprint. Find the most efficient and least polluting way to get around.


Reduce, Reuse and Recycle solid waste during your trip. Bring your own water bottle to refill, avoid buying products with unnecessary packaging and packaging, and do not accept plastic bags to receive purchases of products that you can transport in another way.


Reduce your water and electricity consumption in the tourist accommodation establishments you visit (ask to use your towels and sheets for more than a day and when leaving a room remember to turn off the lights and air conditioning).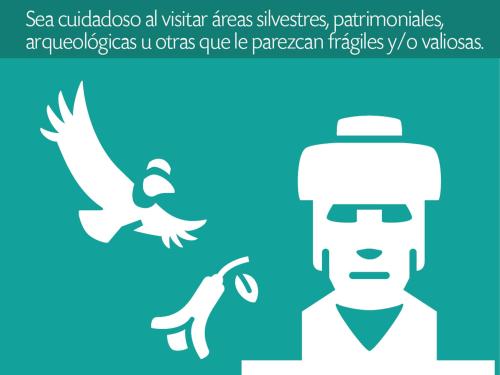 Be careful when visiting wild, heritage, archaeological or other areas that seem fragile and / or valuable to you.
Try to return the garbage generated on your visit to these areas (including organic waste), otherwise it could alter the diet of native wildlife, litter the landscape and affect the rest of the visitors.


Choose routes that cause the least impact on the landscape, favoring existing roads and trails. Prefer guided tours, thus avoiding accidents and reducing soil erosion and compaction in protected areas, while strengthening local work.


Do not commit environmental crimes. If you visit a protected area remember that there is a regulation and that this was created to preserve places and species of great ecological value and in many occasions in danger of extinction.


Do not feed wildlife.


Respect the signs and indications of existing communities in the area you visit. This will allow a safer visit for you, your family and the environment.


Do not remove natural resources, such as fossil stones, snails, plants, flowers, or others, from their original environment.


Contribute to the maintenance of the infrastructure and equipment present in the protected areas by paying the requested fee and using the facilities appropriately.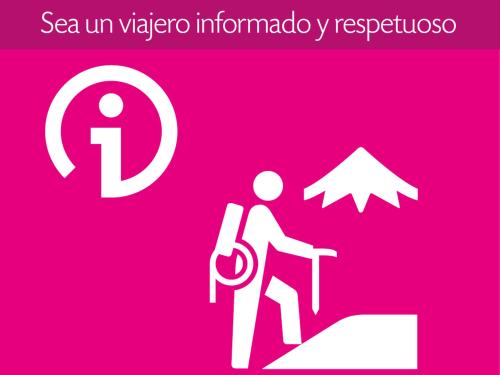 Be an informed and respectful traveler
Comply with local and national laws and regulations.


Respect human rights and protect children from exploitation in any of its forms, especially sexual and labor.


Find out how you can get medical assistance or contact your embassy (for foreign tourists) in an emergency.


Inform yourself of the meteorological conditions when you access mountain ranges or of variable hydrometeorological conditions. If you make tours alone or in a group to the mountain, inform and leave a record of your visit at the Carabineros, CONAF or another pertinent institution.


Inquire at tourist information offices that have official public or private institutional support, in order to obtain objective, updated information and services and activities that comply with the legal provisions of the places you visit.
Social responsability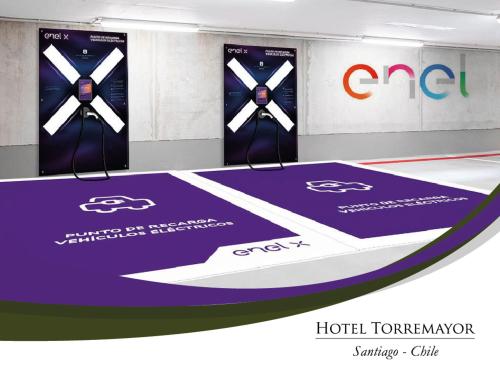 Charging points for electric vehicles
In Torremayor Hotels we have implemented in each of our hotels, two charging points for electric vehicles. Project carried out with Enel.
With this action, we continue to collaborate with the environmental decontamination and energy efficiency projects of our city.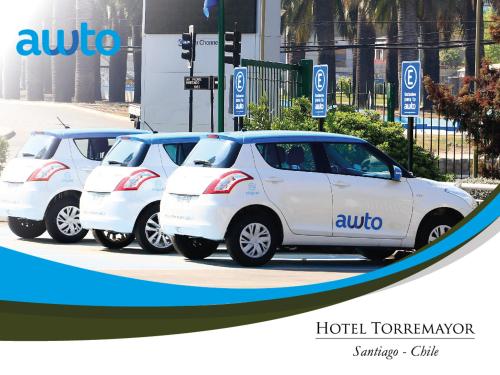 AWTO
Move smart!
For every awto, we eliminate 14 vehicles from circulation. Plus all of our awtos offset your carbon footprint.
Just download the Awto app.
Hurry do not miss this incredible opportunity and tour the city!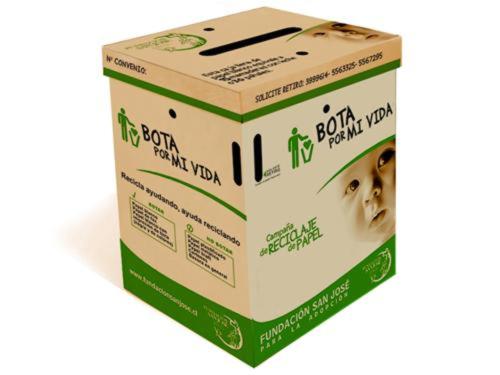 Hotel Torremayor Lyon supports Bota por mi Vida campaign
In this life your role is very important.
In this box you can throw away all the fax paper, photocopies, ballots, or invoices that are collected in our offices, and we will be helping each other to continue with the work of the San José Foundation.
By participating in this Campaign, our entity will help:
Add 10 boxes, equivalent to the cost of care for a day of a pregnant woman at Hogar San José or a newborn at Casa Belén.
Contribute ecologically to preserve our environment, as well as decrease the volume of landfills.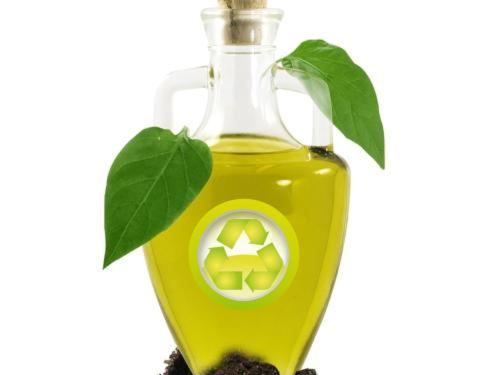 Why recycle used oil?
Used oil residue is currently one of the main causes of contamination of urban wastewater.
Encourages the development of technologies for the manufacture of biofuels; directly helps negative impacts from water pollution.
Reduces the risk of clogged sewer pipes and storm drains.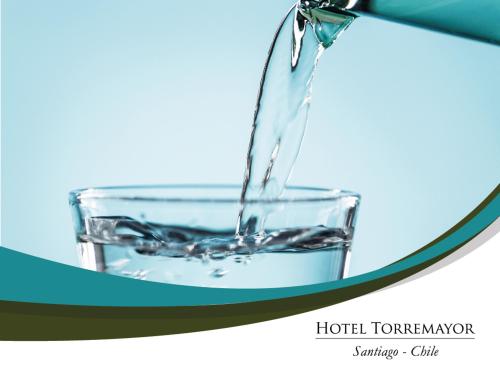 Glass recycling
The glass is 100% recyclable. After use, it is reborn. From a used container, a new one is manufactured, which has the same characteristics as the first, without affecting the environment and generating great energy savings.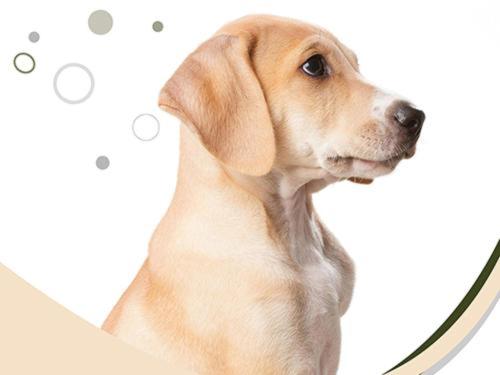 Inclusive Policy
At Hotel Torremayor we have taken care of every detail for our passengers, especially if there is any issue regarding mobility within our facilities. Given this, we have implemented the inclusion of assistance dogs in our pet policy.
Assistance dogs are only accepted for guests with reduced mobility.
It is requested to inform in advance, before the arrival of the guest, so that the Hotel has the special room for these purposes.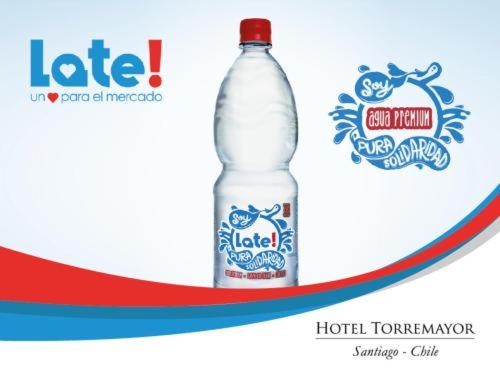 Late Water
Agua Late and Torremayor Hotel. Feel the emotion that we feel, join the hope that together we can help build a just and humane economy.
Agua Late is pure solidarity, that is why it cooperates with the Amigos de Jesús Foundation.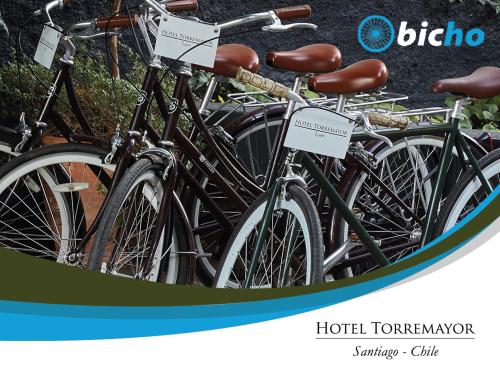 Bicycle rental
Ride a bicycle and enjoy our bike paths through Providencia. Don't forget that the adventure begins at the Hotel.
You can find out all the Providence bike lanes in this link -
CYCLING ROADS
Help us to take care of the water and the environment.
Change of sheets and towels.
Your contribution is essential, together we can
save millions of liters of water from chlorine and detergents.
Bed sheets
Every day we make her bed. Your sheets will be changed
only when this card is placed on your bed in the
morning.
Towels
Leave those you want to use again on the towel rack and
those that need to be washed on the floor.
We would appreciate changing the sheets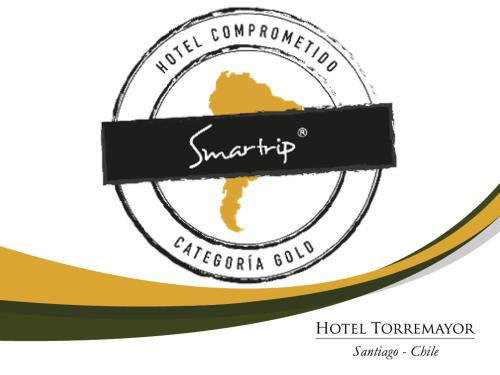 Smartrip
First Stage Native Nursery El Boldo Park
Construction of a nursery in which the different species of native flora that are present in El Boldo Park can be reproduced. Likewise, this project aims to educate the local population and tourists in the knowledge and appreciation of native flora, through direct observation and supervised manipulation of plants in their various stages of development.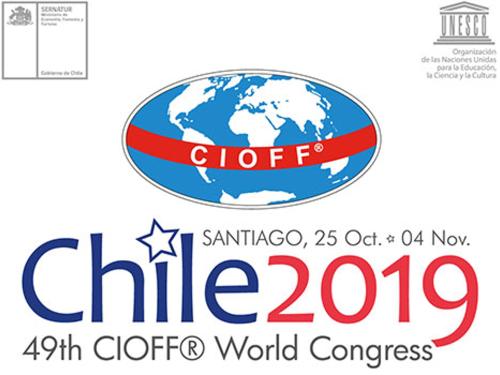 CIOFF IN CHILE
In Torremayor Hotels it is a pleasure to support Cioff Chile in the Forty-Ninth World Assembly to promote Our cultural heritages, through Folklore and Traditional Arts, contributing with the use of the Event rooms of Torremayor Hotels, for October 27 until November 03, 2019.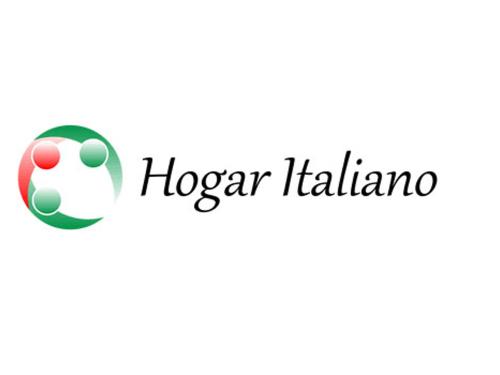 Italian home
We are a Home that has a long history of welcoming members of the Italian community and with the same spirit, integrates grandparents of Chilean nationality.
Our goal as a non-profit organization is to create a great family and support all of our residents to have the well-being and love of a true home.
Our mission is to improve the quality of life of older adults and for this, in our residence, we offer with great joy and enthusiasm the opportunity to share and meet people of the same age by gathering them around various activities and workshops for all tastes .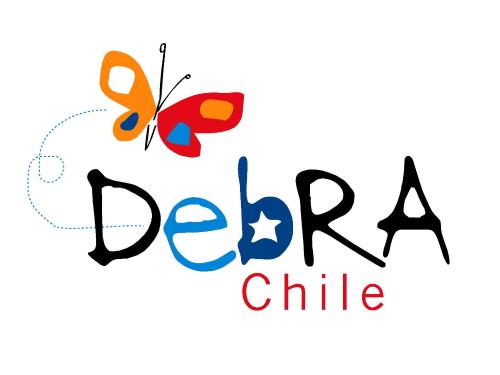 DEBRA FOUNDATION
At DEBRA Chile we provide support, education and medical care from different specialists to all Chilean patients with Epidermolysis Bulosa (EB), a disease better known as "Crystal Skin".
You can find all the information in this link
DEBRA CHILE